Login
Log in if you have an account
Register
By creating an account with our store, you will be able to move through the checkout process faster, store multiple addresses, view and track your orders in your account, and more.
Create an account
Déjà considérée comme la meilleure batterie dans sa gamme de prix, la nouvelle génération de kits Stage Custom Birch bénéficie de plusieurs améliorations notables. Beaucoup de ces changements sont subtils mais substantiels. Yamaha a amélioré les fûts en adoptant des plis plus épais, inspirés de la série Live Custom, des chanfreins arrondis pour améliorer les basses fréquences et pour un meilleur contact avec la peau, des coquilles Absolute dotées d'un seul point d'attache, de nouveaux crochets moulés et de nouvelles piques pour les grosses caisses, et surtout des caisses claires équipées de 10 tirants pour plus de précision et de tension dans l'accordage.
Fût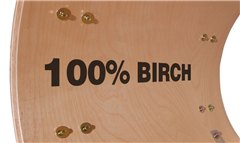 Le bois utilisé pour faire le fût est un facteur clé pour que le tambour résonne ou gronde ! C'est pour cela que nous employons des plis 100% bouleau pour la Stage Custom. Avec ses 6 plis la Stage Custom va produire un son moelleux précis et confortable, des grandes qualités pour une batteries de cette gamme
Technique du ""Air Seal System""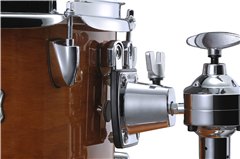 Le secret de notre système « YESS » est double: Premièrement, il permet un minimum de contact entre l'attache et le fût la coquille est fixée sur le point « Nodal* » qui est l'endroit où il n'y a pas d'interférence avec la vibration du fût. Des joints de nylon ajoutent une parfaite stabilité. Le « YESS » est très performant aussi pour placer les toms très près les uns des autres pour votre confort de jeu. Ensuite, sur les toms basses, les « YESS » offrent un sustain très ouvert tout en gardant une grande stabilité au sol. * Le point « Nodal » est la propriété de Noble and Cooley Drum company.
Piques de grosse caisse
Un hommage pour la technologie et le design Yamaha Drums ! Notre rotule a subit pas mal de changement depuis sa conception pour arriver à un résultat optimal. La boule (rotule) en résine dure est enfermée dans une coque chromée et se verrouille avec une clé papillon en titane très ergonomique. C'est une des rares attaches qui permet aux batteurs de positionner son tom tom au millimètre près. Il peut également en une rotation accorder sa peau de résonance sans faire de gymnastique inutile.
Nouveaux crochets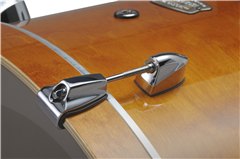 nouveaux crochets moulés
Nouvelles piques pour les grosses caisses
Les pieds de grosse caisse de Stage Cutsom ont les bouchons pour faciliter le réglage.
 
Stage Custom Birch
Hoop
Model
Triple Flange Hoop
Material
Steel
Thickness
1.5mm
Lugs
Type
Separate Lug
Shells
Material
Birch
Head
Top
Remo UT Clear
Bottom
Remo UT Clear
Front
Remo UT Ebony P3
Batter
Remo UT Clear P3
0 review
0 stars based on 0 reviews
Add your review
Review Yamaha Stage Custom Birch Cranberry BD 22" with hardware